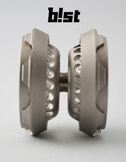 The Stradivari is a one-of-a-kind yo-yo entered into the mod contest at the 2009 world yo-yo contest by Ettore Ferro. It was later used as a prize at the California state competition.
Stub
This article is a stub (too short). You can help the yo-yo wiki by expanding it.
The full list of stub articles can be found here.