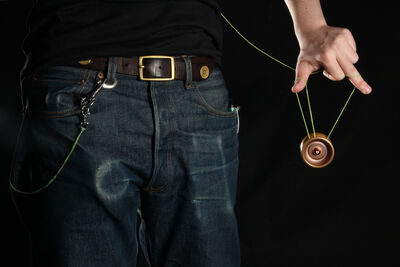 Ben Gates has been yo-yoing since 2001, and has provided official contest videography for more than 40 competitions. As the operator and primary contributor to the YoYo Contest Central YouTube Channel, Ben has filmed, edited, and uploaded more than 2,000 individual videos of contest freestyles, in an effort to improve the representation of competitive yo-yoing.
From 2016-2018 Ben was employed at YoYoTricks.com in Michigan, where he produced numerous tutorials, player clip videos, news updates, and more for the company website and YouTube Channel. During his time there, he oversaw a gain from ~75,000 to over 200,000 subscribers on YouTube. Following his departure from the company, Ben's footage of Evan Nagao winning the 2018 National Yo-Yo Contest in Chicago was featured on ESPN and various other outlets.  
Ben is from New Jersey, and a current member of The New York Yo-Yo Club. He is also an occasionally featured guest at The Downtown Plymouth Yo-Yo Club, The Boston Throwers, The Pittsburgh Yo-Yo Club, DXL, Spin Dox, and BurninBerlin. 
Ben was most active online during the mid-school era of yo-yoing as TAB on the ExtremeSpin.com Forum, TheYo.com, YoYoGuy.com, YoYoNation.com, and Dave's Skill Toys. Between 2006 and 2008, he made several contest clip videos which have been highly regarded. In 2007, Ben was hired to film and edit the pilot episode for YoYoNation.com's VideoBlog Series with Francis P. Cuartero. He also produced a short teaser commercial for the original Crucial Milk.
There is a general consensus that he is a more successful troll than Boxthor. Ben's ill-fated career in competitive yo-yoing began at the 2005 Massachusetts State Yo-Yo contest. After sitting cross-legged on the floor all day watching the freestyles, his foot fell asleep when he was called up to compete, and came in last place (5A/X-Division). Ben has repeatedly made claims of holding the title "Former NJ State Yo-Yo Champion." In 2007 or 2008, he was considered the 1A state champion due to a technicality at Mid-Atlantic Regionals. In traditional 1A competition, Ben has never scored higher than 50%. However, in 2013, due to a technicality at Northeast Regionals, he qualified for and competed in the 2A Prelims at the National Yo-Yo Contest. In 2019 he finally claimed the NJ State 2A title. 
Fun Facts:
Official videographer for Ky Zizan
Ben is known for the infamous, beat-to-hell OneDrop Project, which was mutilated as a durability test after Maryland States 2008 in the parking lot of the Holiday Inn Express. Despite heavy damage sustained by constant Hammer of Thor's, in addition to an altercation with the pizza guy's car, the yo-yo remains playable. One of the hubs is bent, so the axle is crooked, but it is still usable to this day. 
Ben has produced several rubber-bodied yo-yos under the pseudo-company abbreviated as ZORP. These rubber yo-yos are hard to play with, but they do bounce.
He made a tutorial video of Spencer Berry's trick Shepherd for the Anti-Contest. He did not win the BSP. 
Ben attended Emerson College in Boston, during which time he was a regular attendee of the loosely organized Boston Throwers yo-yo club. 
For the US National Yo-Yo Contest in 2015 and 2016, he worked with Patrick Borgerding to shoot and edit the player profile introduction videos. He also devised multi-camera videos for the Finals divisions at the National Yo-Yo Contest in 2016 and 2018. 
During his time working for YoYoTricks.com, the company sponsored various competitions by providing Ben's videography services.
His coverage of SFC in Jarocin, Poland, amidst a ridiculous and unexpected adventure across Europe in an RV during the summer of 2014, was featured in an article for YoYoNews.com

Links:
Featured Contest Videography:

Promotional Videos for YoYoTricks.com:
On a Midsummer's Eve: Ann Connolly
TAB's old contest clip videos:                                                                                                     

A selection of yo-yo related short films:
Original Trick videos:
vs Bergy Video Battle: Decent Vision BKRW
Performances: