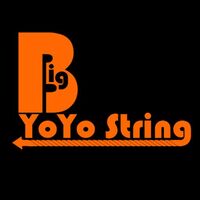 Big Yoyo String was formerly a boutique string company from Appleton, Wisconsin owned and operated by Jake Vande Walle.
Their goal is to provide the yoyo community with consistent, high-quality strings to allow yoyoers to play at their best level and not need to worry about their string. They are best know for making high quality polyester, nylon, and cotton strings.
Most recently they have been developing there first yoyo The Vitality.
History by Year
Yo-Yos Produced
YoYo String Types
Big Yoyo String is know for making many types of string.
Type 1: A nice, tight poly string that manages tension well and lasts a long time.
Type 3: A very fast, whippy polyester string that lasts forever. Comes in awesome colors as well. A.M. Slix: Signature string of our first sponsored player, Andrew Miller! Basicalley a whippier version of a type 1 string, this is a favorite of many competitive yoyo players.
Candy String: This is our "economy" style string. It is very soft, and manages tension better than anything you have ever used! Lasts a decent amount of time (about the time a regular poly string lasts), and is perfect for yoyoers on a budget.
Cyber Silk: This string is a very silky string, and really packs a punch when it comes to whips. It has a metallic sheen to it, which makes it look really unique.
Panther String: This string is definitely amazing. It comes in NEON Yellow and NEON Green. It whips so fast you can hurt yourself, and lasts almost forever (you can wash it and it will be like brand-new).
Dream String: Signature string of our player Josh Rodriquez. It is a type 3 string twisted a little tighter and has a strand of nylon in it for even FASTER whips!
Contact Information
External Links
Community content is available under
CC-BY-SA
unless otherwise noted.