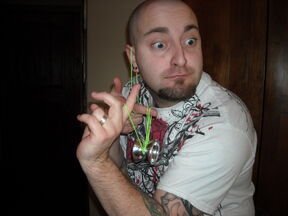 Branden Moreau
,
Yo-yo Moreau
, started yo-yoing in 1996, and competed in a number of contests until his retirement from competition in 2005 due to pressures from culinary school. Since that time Branden has acted as a judge in a number of competions. Branden is also apart of the
DXL Crew
,
Ditch Down Crew
, and one of the Founders of the
String Cheese Yo-Yo Club
based out of Spokane, WA.
Previous yo-yo sponsorships includes companies such as Spintastics, Extreme Spin, and Team Yomega.
Achievements
2000
NorthWest Regional Wow the Judge 2nd Place
NorthWest Regional Freestyle 3rd Place
2001
NorthWest Regional Wow the Judge 1st Place
NorthWest Regional Freestyle 2nd Place
National Yo-yo Contest Single A 8th Place
2002
Bay Area classic Single A 5th Place
Yomega Worlds Pro-Am 1 Freestyle 6th place
Yomega Worlds Pro-Am 1 Trick Ladder 9th place
AAA Throwdown at Nationals 4th place
2003
Bay Area Classic Single A 7th place
Yomega Worlds Pro-Am 1 Freestyle 7th place
National Yo-yo Contest Single A 23rd
High School Letterman for Recognition Yo-yoing as a Sport
2005
Pacific Northwest Regionals Freestyle 2nd place
Retired from Competition
2006
Inland Empire Challange Judge
2007
Inland Empire Challage Judge
2010
Pacific Northwest Regionals Judge
External Links