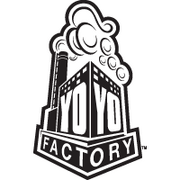 Evan Nagao was only three years old when his dad, Alan Nagao taught him how to yo-yo. Evan's father is also the owner of a former yo-yo shop in Hawaii, and was also responsible for forming THP, the legendary yo-yo demonstration team which was partly responsible for the widespread yo-yo boom during the 1990's.
In 2009, Evan became a sponsored player for YoYoFactory.
In June 2016, Evan's first signature series yo-yo, the YoYoFactory Edge, was released. 
In October 2017, he became the 2017 U.S. National 1A Champion, wiping out the three-time National 1A Champion, Gentry Stein.
Shortly afterwards, Evan released a new plastic signature model, the Wedge.
In 2018, Evan Nagao took the 1A world championship title using the Edge Beyond yo-yo at the World Yo-Yo Contest.
Signature Yo-yo(s)
Achievements
2010
California State Yo-Yo Contest - 1A Division - 10th Place
World Yo-Yo Contest - 1A Division - No information
Southwest Regional Yo-Yo Contest - 1A Division - 6th Place
2014
U.S. National Yo-Yo Contest - 1A Division - 6th Place
2015
U.S. National Yo-Yo Contest - 1A Division - 5th Place
2016
Pacific Northwest Regional Yo-Yo Contest - 1A Division - 1st Place
California State Yo-Yo Championship - 1A Division - 4th Place
U.S. National Yo-Yo Contest - 1A Division - 4th Place
2017
Pacific Nortwest Regional Yo-Yo Contest - 1A Divison - 4th Place
European Yo-Yo Championship - Open 1A - 1st Place
World Yo-Yo Contest - 1A Division - 6th Place
U.S. National Yo-Yo Contest - 1A Division - 1st Place
2018
Pacific Northwest Regional Yo-Yo Contest - 1A Division - 4th Place
U.S. National Yo-Yo Contest - 1A Division - 1st Place
World Yo-Yo Contest - 1A Division - 1st Place 
Gallery
Videos