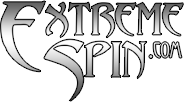 ExtremeSpin
(aka "ES") is a company that was started in 2000 by
Rich Rains
and yo-yoing mainstay
Tommy Gun
. The company ceased to exist as a retailer in May of 2007. They had a website at
ExtremeSpin.com
 that sold yo-yoing and skill toy equipment.
In addition to being a former online retailer, they also operated ExtremeSpin.org, which offered free online webspace for yo-yoers, and The ExtremeSpin Forum where yo-yoers came together to discuss yo-yoing and other topics. The forum was moderated by Tommy Gun as well as other assigned mods. With no store attachment, users were free to discuss any brand and store. Eventually it became overrun with spam, and shut down.
Team ExtremeSpin was sponsored by ExtremeSpin, but disbanded when the store closed. Many of the players also posted on their forum.
History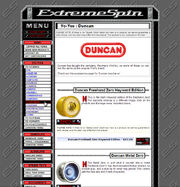 Rich Rains
and
Tommy Gun
met in 1998 when Tommy got a job at YoYoHouse, a mall kiosk that was managed by Rich. They began performing yo-yo shows at schools and other events, and got together with other local yo-yoers to form the
Chicago Crew
, a monthly skill toy club.
When YoYoHouse closed, Tommy, during a random conversation, asked why they couldn't simply start their own yo-yo store online, since he had already been running a small yo-yo fansite of his own. Rich agreed, and decided on the name "ExtremeSpin" for the company. Tommy designed a few different logos, which later appeared on custom Renegades, Freehands, string cutters, stickers, shirts, and other items sold on the site and at contests.
The website and product photography was maintained entirely by Tommy Gun, while most of the business side was handled by Rich. The site went through a few revisions as the product line expanded.
Closed
In May of 2007 Rich Rains posted on ExtremeSpin.com that the store would be closed temporarily while he worked on putting together ISC 2007. Soon rumors started to fly that the store would not be reopening and when the store remained closed for a week after the contest it seemed that those rumors might have some validity. After a month had passed and nobody had heard from Rich Rains, Team ExtremeSpin started asking questions about their sponsorship. The ExtremeSpin voicemail was full and even Tommy Gun had trouble contacting Rich.
It is still unclear what led up to Rich abandoning the store, but some reasons cited are increased competition, low profit margins, and loss of motivation. It seems that he accepted a position back with the company that he worked with before opening the store.
External Links