Jurassic World: Dominion Dominates Fandom Wikis - The Loop
Play Sound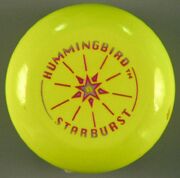 Hummingbird Toy Co., Ltd. was the first yo-yo manufacturing company started by Brad Countryman. In the 1970's, Brad was a manufacturer of custom furniture, and as such needed to find a way to dispose of his left-over wood. In the early 1980's, his Country Wood Shop took the step of making toys and yo-yos with the pieces left over after the manufacturing of furniture. Starting at first with cars and trucks, the creation of the wheels for these models made a natural transition into the manufacture of yo-yos.
During an exhibition at the 1981 New York Toy Fair, the yo-yos got the most attention, although only a small portion of the company's booth was dedicated to these toys. From there, the business progressed quickly and in 1982 the 3-worker shop turned out 10,000 yo-yos that caught the eye of companies such as L.L. Bean, Eddie Bauer, and Land's End. These companies began to market custom made versions of Countryman's yo-yos the following year. As interest grew and the line evolved, more exotic woods were added and the toys found their way into museum shops and upscale catalogues as high-end novelty gifts.
By the late 1980's, Countryman's company, now called Hummingbird Toy Co., Ltd., was known internationally for their ability to manufacture high-end quality wooden toys. An example of this is the Yo-Yo Man/Smothers Brothers yo-yos, which Hummingbird produced and that were quite popular for about four years during the 1980's.
The success was short-lived and in 1989, the company suffered a severe flood. Countryman was forced to make a decision to re-finance the company, and in 1991, sold 70% of his share in the company. Brad remained with Hummingbird, taking on the title of Creative and Marketing Director. In 1992, Hummingbird almost completely abandoned yo-yos in favour of the production of Thomas the Tank Engine & Friends Wooden Railroad sets for the Learning Curve Toy Company. With the high demand placed in production, all manufacturing was outsourced to China in early 1995, but by mid-1995, Hummingbird had finally closed its doors.
The closing of the Hummingbird company was however not the end of the line for Brad - with his yo-yos still very popular and in high demand, Brad decided to return to manufacturing yo-yos, founding What's Next Mfg. with a new line of BC yo-yos.
Yo-yos Produced
Pocket Rocket (for Tom Kuhn)

Hum-Zing'er

Oh! Zone

Starburst

Comet

Hol-Yo-Gram

Limited
Trivia
Dale Myrberg was once a demonstrator for Hummingbird during the 1980s.