Kenichi Nakamura



---

Alias
Nakamura-Meijin/Master Nakamura
Resides
Japan
Affiliation
Team High Performance (former)
YoYoStyle
1A
Playing Since
Mid-1990s
Known for
Famed Hyper Yo-Yo Pro Spinner
Performing the Spider Baby
Fictionalized persona in Supersonic Spinners/Super Yo-Yo

Kenichi Nakamura A.K.A. Nakamura-Meijin (Japanese: 中村名人, translated: Master Nakamura) is a Japanese yo-yo player and a former member of Team High Performance, and was one of the driving forces behind the Hyper Yo-Yo boom alongside the likes of Alex "Warp Speed" Garcia. During the 1990s, he was one of the most famous among the Japanese Hyper Yo-Yo Pro Spinners.
His signature yo-yo trick is the Spider Baby, which is also the subject of a humorous Japanese internet meme. The meme is based on a scene in the Japanese manga, Moero Spinner (the predecessor to Supersonic Spinners/Super Yo-Yo), where Nakamura performed the trick in front of the protagonist with a proud face and oversaturated linework.
In 2011, Yoyomonster produced his new signature yo-yo, the 3Points, a miniature aluminum yo-yo designed and named in reference to Pi. He had also made an appearance at the 2012 Japan National Yo-Yo Contest alongside Alex Garcia.
In November 2014, he was one of the contest judges for the 44CLASH yo-yo competition, alongside Yu Kawada and Atsushi Yamada, both of whom were also members of THP Japan. He had also competed in the Fixed Axle division of HamaCon that year, taking 14th place.
In August 2015 at the World Yo-Yo Contest in Tokyo, Japan, Nakamura made an appearance in his old THP teal shirt, alongside the 1999 Worlds trophies, and coming on stage for the THP Japan reunion. In addition, he had judged for the 2015 44CLASH Battle Tournament, which was also held during Worlds that year.
In 2016 at HamaCon, he once again participated in the Fixed Axle division, this time, taking a more respectable 4th place finish than with his performance two years prior.
Signature Yo-yos
History
No infomation yet
Achievements
Listing not complete
1997
Listing not complete
1998
No information yet
1999
No information yet
2000
2000 Hyper Yo-Yo Japan Championship - No information
2014
Hamatatsu Yo-Yo Contest - Fixed Axle Division - 14th Place
Judged at 44CLASH
2015
Judged the 44CLASH Battle Tournament at Worlds
2016
Hamatatsu Yo-Yo Contest - Fixed Axle Division - 4th Place
Supersonic Spinners/Super Yo-Yo
Nakamura-Mejin also has a fictionalized persona (voiced in the Japanese version by Shin-ichiro Miki) in Takashi Hashigushi's manga and anime series Supersonic Spinners (also known as Super Yo-Yo), in which he often entered a scene by coming out of the restroom.
Gallery
Videos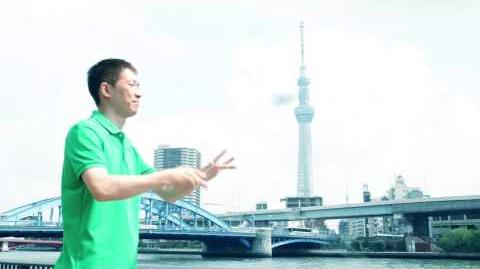 Community content is available under
CC-BY-SA
unless otherwise noted.