Silverback King
Manufacturer
King Yo Star/MonkeyfingeR Design
Release date
March 12th, 2016
Shape
Step Round
Color
Blue
Orange
White
Weight
79.5 grams
Dimensions
Diameter: 76.9mm
Width: 60.05mm
String Gap Width: 2.55mm
Material
Delrin
Bearing size
Size C Grooved 10 Ball (default)
Size C (included)
Response system
King Yo Star Grip Pads (19mm OD/Large Slim)
The
Silverback King
is a return top produced in collaboration by
King Yo Star
and
MonkeyfingeR Design
. It was first announced in February 2016, and was released worldwide on March 12th, 2016.
Description
The Silverback King is an offstring return top made of delrin, developed over four stages of prototyping and tested for durability on every surface. Each aspect of its design is well thought-out and feels perfectly well-finished, fitting comfortably in the user's hand with a weight distribution that suits any offstring playing style, from regenerations to fast trick combos.
Being the first offstring model made by any of these two fine Canadian brands, the Silverback King was designed to bridge the gap between the ideal throw for beginners in learning offstring play and a competition-ready machine for skilled players. It comes included with two different C-bearings; a 10-ball grooved unit that is pre-installed on the return top as a default option, and a standard 8-ball bearing. It also comes packed with three stickers, spare response pads, a throw glove, and two custom Monkey Hanger strings from MonkeyfingeR.
Video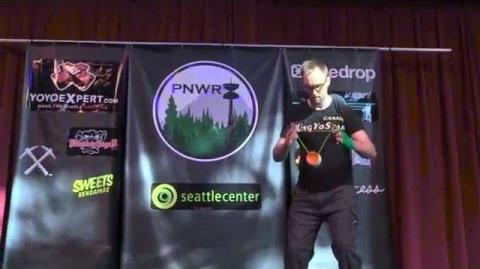 Gallery
Trivia
It is named in after the Silverback, which refers to an adult male gorilla.
External Link