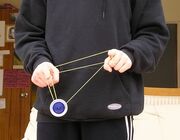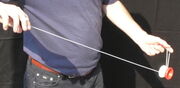 Kwyjibo, often misspelled as "kwijibo," is a difficult trick with two pops and a
dismount. To do kwyjibo, start with a trapeze pop up and quickly cross your throwhand over the other hand into the string, then roll it over to a 1.5 mount and cross your throwhand under landing in double or nothing finally just pop the yo-yo off and land into a trapeze.
History
Kwyjibo was invented in the late 1990s by Taylor Whitley. The name of the trick comes from an early episode of the Simpsons, when the word "Kwyjibo" is invented by Bart to win a game of Scrabble. The name is often misspelled because a forum user set his username to "kwijibo," spreading confusion every time he posted.
Community content is available under
CC-BY-SA
unless otherwise noted.