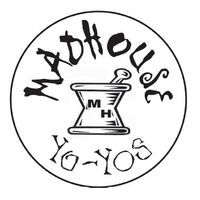 MadHouse Yo-Yos
is a manufacturer of high-end yo-yos that focuses on products that stand out as different and unique. They were started in 2008 in California, and have since moved to Central Oregon. MadHouse is owned and operated by
Rick Kroytz
, who started the company because of his long time interest in yo-yos (he has been yo-yoing since 1984). Rick has worked closely with his long term friend
Nick Pelham
on many aspects of MadHouse. 
MadHouse yo-yos was an idea that Rick had for many years but did not have a clear-cut way of implementing his plan. Eventually, things lined up and MadHouse was born. MadHouse's first release in late 2008 was the 5150, which is named after the California police code for a mentally disturbed person. MadHouse has used NFS String made by Tanner Manning of San Fransisco. MadHouse has since formed a team of uniquely qualified individuals called the MadHouse Syndicate. MadHouse's future plans are to continue to grow their line of unique, playable and amusing yo-yos.
Yo-yos Produced
Photos
External Links
Community content is available under
CC-BY-SA
unless otherwise noted.