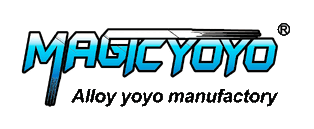 MagicYoyo Company
is a Chinese yo-yo manufacturer started in 2004 as a branch of GT Int Group - TND Toys. They were started in response to the resurgence in popularity of yo-yos. Their stated aim is to introduce many great products at a competitive price point — especially aluminum yo-yos.
Recently they have been working on building a team of players for competitions. In 2011, MAGICYOYO Indonesia as MAGICYOYO Official Team started building Team MAGICYOYO.
Currently, MagicYoYo has five series of yo-yos, each with a single letter prefix: D, K, M, N and T. In addition to these lines, they also develop standalone and collaborative premium yo-yos such as the 2016 release, Magical by Junliang Tian, and the SKYVA, with Jeffrey Pang. 
Team MAGICYOYO Members
Product List

Plastic & Delrin
D1 GHZ
D5 Dark Sprite
K1 Spin
K10
T1 Captain (4A/Offstring)
SKYVA (Designed by Jeffrey Pang)
Aluminum
K3 Lighting
K5 Night Angle
K6 Bronze Saints
K7 
K8 Leopard
K9 The King
N5 Desperado
N6 Magistrate
N8 Dare To Do
N9 Floating Cloud
N11 Weight Ring
N12 Shark Honor
Purple Line
T5 Overlord
T6 Rainbow
T8 Shadow
T9 Dark Angel
T10 Dark Angel 2
V1 (made in conjunction with P.LOTOR)
V2 Avocado
V3 (made in conjunction with Ametoys)
V4 (made in conjunction with Ametoys)
Bi-metal
M001 Silencer
M002 April
M003 Prophet
M04 Stealth
M05 Magical (Designed by Junliang Tian)
Ceramic
Composite Material
Other Skill Toys
MagicKendama-01
MagicKendama-02 (Large size)
MagicYoYo Luminous Speed Cube (Rubik's Cube)
External Links
MAGICYOYO Manufactory