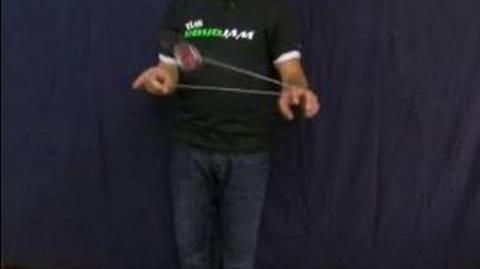 McBride's Coaster
was a trick originally invented and named after
Dennis McBride
. This trick is very easy to learn and after some practice you should be able to do it with no problems.
2003 World Yo-Yo Contest version
Start with 2 sidestyle around the worlds also known as a world tour by throwing a breakaway and doing an around the world from it and to go around again.
Go into a 1.5 mount then you want to dismount from this and go into a trapeze and his brother mount.
From here dismount again and go into a double or nothing, perform a windmill dismount to trapeze.
After landing in a trapeze take your index finger on your throw hand and insert it into the loop and open the loop up in to a triangle. then throw/flip the yo-yo over both fingers twice as if doing triple nothing without droping the loop landing in a mount similar triple or nothing.
After this dismount using a ferris wheel and bind return or normal return depending if your yoyo is unresponsive or not
Videos
Community content is available under
CC-BY-SA
unless otherwise noted.