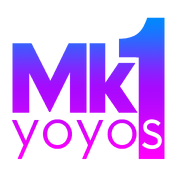 Mk1 Yoyos is a US-based yoyo company founded in 2018 by Mark Diehr. The brand focuses on more experimental aspects of yoyo design. His first release, the Diffraction, had a very limited release, but the updated version (Diffraction v2) marked the point when the brand would operate seriously, including player and contest sponsorships, and wholesaling to yoyo retailers like Yoyoexpert, Yoyoworld, and Yoyosam.
Information about the company can be found at its website, mk1yoyos.com.
Player Team
Yoyo Releases
Photos
External Links
Community content is available under
CC-BY-SA
unless otherwise noted.