Tri-B
Manufacturer
MonkeyfingeR Design
Release date
December 4th, 2015
Shape
H-Shape
Color
Various
Weight
Standard: 64.3 grams
A5: 66 grams
Dimensions
Diameter: 54.06mm
Width: 43.04mm
String Gap Width: 4.3mm
Material
Aluminum
Bearing size
Size C REvolution
Size C Tasmanian Tornado
Response system
MonkeyfingeR Monkey Snot
The
Tri-B
(prononuced "tribe") by
MonkeyfingeR Design
is a return top that was first released on December 4th, 2015 at 8:00 PM (EST).
Description
Designed with input by MonkeyfingeR's own team players, the Tri-B features design elements from three other models in the line-up; the Ape-X, Caesar and Gelada 2. The profile of the Tri-B has large, flat rims with a hard angle at the outer edge and a v-cut at the inner edge that leads to the catch zone. The catch zone is made up of two flat walls, which also meet at an angle before traveling down to the step out from the gap. The side cup stands in contrast with the profile. It starts off with an angle cut step in with more cuts under the rim that forms a v-channel IRG lip. From there, the IRG lip meets a sweeping organic inner wall that travels to the floor and up to the hub in the center, with its concave tip suitable for finger spins.
Typical of MonkeyfingeR, the Tri-B comes in a variety of multi-colored anodizations with a smooth blast finish for amazing grinds and longer finger spins.
While it comes stock with the usual Monkey Snot flowable silicone response, the Tri-B is the first in the line-up to feature MonkeyfingeR's new REvolution bearing. The REvolution bearing is a 10-ball composite-material design, which is comprised of ceramic balls complimented with a steel cage and races, making for a smooth and long spin. The current bearing for the Tri-B is a variation of the REvolution bearing, the Tasmanian Tornado, which features a string-centering, Center Trac-style shape.
Gallery
Video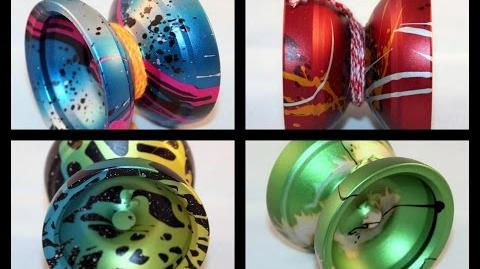 External Links