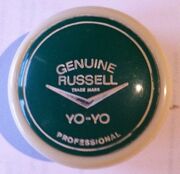 Russell is one of the oldest and most well-known yo-yo companies. The Russell company was formed in 1947 when Jack Russell, a professional yo-yo player, took the idea of linking yo-yos to promotions. Originally called The Jack Russell Company, recently the company has been renamed to Russell Promotions, Inc. (to refelect the overall makeup of the company, including most of Jack's family), but the core company concept still remains: promoting name brand products and linking them directly to promotions.
An example of the promotional view, is the Coca-Cola Russell yo-yo craze that swept across the globe in the 1980's and gave a lot of the current generation of yo-yo players their start. In this period professional Russell demonstrators took the craze to 95 countries, with yo-yo models reflecting most of the soft drinks produced by the Coca-Cola company. Promotions are based on the idea of taking a simple toy, creating a fad around it, and supporting it with related activities, such as yo-yo competitions.
Recently Russell Promotions have expanded the types of products they offer to footbags, keeping with the tradition of "easy to learn but difficult to master" skill related sports. Russell Promotions, Inc. is located in Stuart, Florida.
Yo-yos Produced
External link