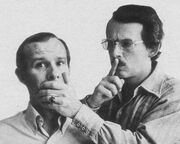 Tom and Dick Smothers have been entertaining as a comedy team since 1959, with their first performance at The Purple Onion in San Fransisco. Their most famous skit, Mom always liked you best, led to repeated sucess and in 1967 they received their own variety television show on CBS, The Smothers Brothers Comedy Hour.
In the early 1980's, Tom received the song, "(I'm a) Yo-Yo Man" from Rick Cunha. He remembered a few yo-yo tricks from his childhood and added them to his performance to the song. In 1984, with the help of Dan Volk and other yo-yo demonstrators, he incorporated the yo-yo completely into his act and in 1986 the Yo-Yo Man made his television debut with Johnny Carson on The Tonight Show. In 1988 this success led to the release of the Smothers Brothers Yo-Yo Man Instructional Video, long touted as the most successful instructional video, with sales over 200,000 copies.
In 1982, Tom Smothers bought the Remick Ridge Winery and included several yo-yo related items in the winery gift shop. The Smothers Brothers and their Yo-Yo Man performance have remained Las Vegas headliners and they continue to perform at conventions and fairs throughout the United States.
Smothers Brothers Yo-Yos
A variety of Smothers Brothers branded yo-yos have been released by companies such as Hummingbird, Playmaxx and Tom Kuhn.
Hummingbird Nissan Open YoYo Man

ProYo YoYo Man

Tom Kuhn Smothers Fine Wines

YoYo Man Wine Stopper
External Link