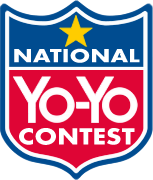 The U.S. National Yo-Yo Contest, also known as the American Nationals or U.S. Nationals, is a yo-yo contest that was first started in 1993. It was held every year in Chico, California, home of the US National Yo-Yo Museum. It is a national competition which the winner is deemed number one in the nation. The event was traditionally held the first weekend in October. In 2015 and 2016 it was held at held at Redondo Beach, California in an attempt to move the contest around the country. In 2017 the contest was held in Chico, California again. After that the contest resumed its intention to migrate around the country, with 2018 in Chicago, and 2019 in Philadelphia.
Players can earn a seeded spot into the Championship 1A Finals, by winning one of the nine regional yo-yo contests authorized by the US National Yo-Yo League.
The contest is hosted by Bird In Hand yo-yo store in Chico and organized by Bird In Hand owner Bob Malowney.
In addition to the contest, they present US National Yo-Yo Museum awards and other honorary awards given to individuals who have contributed significantly to the yo-yo community.
It was announced about 2017 contest, that the competition after 2017 in Chico would be moved to early Summer and migrate cities again, so that it would be held before the World Yo-Yo Contest in the calendar year. Because of that the 2017 national champions were not seeded to any Worlds.
In 2020 and 2021 US nationals was cancelled due to the Coronavirus pandemic. The 2022 contest was held in person in Mesa Arizona, June 24-26, all other National Yo-Yo League sanctioned contests in 2022 including Regional events where cancelled due to the pandemic.
Current Champions (2022)
Past Champions
2021 (Cancelled via Pandemic)
2020 (Cancelled via Pandemic)
2019
2018
1A - Evan Nagao
2A - Connor Scholten
3A - Alex Hattori
4A - Ryan Connolly
5A - John Wolfe
International Open - Luckey Yulin Li (China)
2017
2016
2015
2014
2013
2012
2011
2010
2009
2008
2007
2006
2005
2004
2003
2002
2001
2000
1A –

Takumi Sakamoto

2A –

Alan Batangan
1999
1998
1997
1996
1995
1994
1993
Championship 2A -

Ryan Carver
National Yo-Yo Museum Awards
Extreme Spin National Cup Award
Past Nationals
American Nationals 2000

American Nationals 2001

American Nationals 2002

American Nationals 2003

American Nationals 2004
External Link