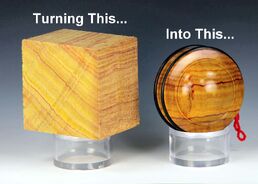 Ed Davidson (aka YoYoSpin) has been working with wood for over 40 years, the last twenty or so full-time. Turning wood and exotic composites is now his passion. Ed's work has been published in several national magazines, including the covers of The Crafts Report and American Woodturner, and is well known throughout the Rockies. Ed's specialty is turning one-piece yo-yos and "Terror Tops" from exotic woods and plastics. He collaborated with Frank Difeo when Frank began making his first collector's yo-yos, creating custom boxes for yo-yos such as the Dif-e-Yo Daizzy-Fly. He is also known for modding yo-yos from companies such as YoYoJam, Tom Kuhn, Recreation Revolution, and even YoYoFactory into one-of-a-kind works of art.
Community content is available under
CC-BY-SA
unless otherwise noted.