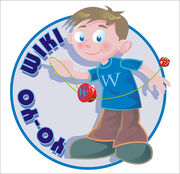 Welcome to Yo-Yo Wiki
The Yo-Yo Wiki (sometimes abbreviated to YYW) is a wiki resource for the yo-yo world, founded in September 2005. The goal is to catalog all the world's information about yo-yoing. We want to carry the history of the yo-yo, descriptions of all styles of yo-yoing, the history of specific yo-yos, as well as stories about events, people, and all things related to yo-yoing. We have answers to common questions at our FAQ.
Anyone can edit
A wiki is a website that anyone can edit, and the Yo-Yo Wiki is no exception. Yo-yoers of all ages and abilities can get involved and contribute information or improve the information already on here. Learning to edit is easy and all the information you will need can be found at the YYW editing guide.
Leadership
The Yo-Yo Wiki was set up by Josh Parker and Derek Anderson in September 2005, and both act as administrators. Since then, Wilfred Hughes and Rick Kroytz joined the administration team and the number of users has grown to several thousand.
Communication
Every article has its own 'talk page', where editors can ask questions and discuss issues related to the article. There is also a general discussion area on the Coffee Machine page. Users can also describe themselves on their user pages and can send each other messages on the user talk pages.
Hosting
We've changed hosts several times, but we're now on Wikia. Wikia is a business that specialises in wikis, so your admins now only need to worry about content rather than server software.
Logo
The YYW logo was chosen by running a competition. The logo used in the interface is here however a higher resolution can be found here. Before this we had a logo based on the YoBoy logo, and we have also used a wide version at one point.
Size and popularity
We have reached 2,049 articles on the YYW, but more statistics are available on the statistics page.